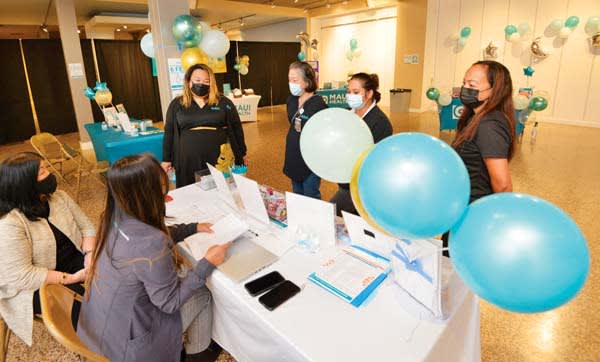 As hospitals nationwide face an "elevated labor pressure" due to COVID-19, Maui Health continues to try and mitigate a growing nursing shortage that began well before the pandemic and is now expected to continue for the next several years.
Like many health care facilities, Maui Health, which consists of Maui Memorial Medical Center, Kula Hospital, Lanai Community Hospital and clinics, is juggling an outflux of employees and recruitment strategies to fill vacancies.
"The pandemic has put a strain on our health care workforce, and it is not exclusive to Maui," Maui Health CEO Michael Rembis said Thursday in an email. "It is a challenge our entire nation is trying to manage."
The facilities under Maui Health employ more than 1,600 Maui County residents and partner with over 460 hospital-based physicians, clinicians and community-based primary and specialty physicians, according to Maui Health's website.
A report on the U.S. health care labor market by AMN Healthcare noted that average job openings per month nationwide in 2021 were over 1.5 million, a 36 percent increase compared to 2018-20, according to data from the U.S. Bureau of Labor Statistics.
An average of 670,000 people were hired per month, but an average of 505,000 quit per month in 2021, the data show.
The time it takes to fill vacant positions is averaging 89 days, and turnover for registered nurses is also reaching 20 percent, according to the report.
Hospitals are "experiencing an elevated labor pressure due to COVID, volume growth and higher acuity," the report said.
At a local level, there are many reasons why Maui Health has been experiencing staffing gaps.
"The nursing shortage that preceded the pandemic was already challenging," Maui Health spokesperson Tracy Dallarda said. "Health care workers are tired, and some have decided to move out of the hospital environment, or chose to retire early, work from home, or opted to take a break and not work at all."
Even more challenging for Hawaii than other states is the high cost of living, she added, making it "very difficult" to find affordable homes, even for the highest paid health care positions.
Nursing in particular is a rewarding job, but the work can be tough, and many officials have stated that the pandemic put a much bigger strain on nurses and the health care system as a whole.
"With more demand for patient care, and less resources to care for them, our workforce, like our colleagues around the country, have been working harder and longer hours to cover for high census, COVID-19 patient care needs and staff vacancies," said Marian Horikawa-Barth, chief nurse executive for Maui Health.
Born and raised on Maui and a University of Hawaii Maui College nursing program graduate, Horikawa-Barth spent many years working on the Mainland before returning home "to take care of my community," she said.
"I know I am not alone in wanting to give back and also to create career opportunities for those wishing to make a difference for the people of Maui," she added.
Once the pandemic hit, however, the ability to stay or work on island in the health care industry was strained.
Federal Emergency Management Agency nurses were brought in to assist with COVID-19 patient care needs, but this is not a long-term solution, Dallarda said.
"Employees are tired," Horikawa-Barth added. "This has been a marathon, not a sprint, and some have decided to retire early, leave hospital care all together and change careers, or are choosing not to work."
And it's not just nursing positions that are in high demand, Dallarda said, noting that all staff play "vital roles" that support clinical work and patient care, from housekeeping to dietary staff to business office employees.
Earlier this year in a Maui County Council committee meeting, medical providers from Maui Medical Group had shared similar concerns, noting the need for more phycologists, oncologists and physiatrists, as well as the struggle of recruiting or keeping personnel staffed to help meet demands.
Interestingly, health care facilities looking to fill vacancies are also competing with other businesses and industries that are outside of health care-specific roles. For example, jobs in accounting and health information management require specific technical expertise and experience that can be taken elsewhere.
"This adds another level of difficulty in finding the right candidate, and with the strain on people's resources everywhere, it makes it even more challenging," Dallarda said. "It is a significant issue in most industries across the country."
Despite the national level and local level challenges, Maui Health continues to try and fill vacancies. One way is by hosting career fairs.
The most recent one was held on Feb. 23 at Queen Ka'ahumanu Shopping Center where health care officials focused on sharing 21 available career opportunities at Maui Memorial Medical Center and getting to know potential applicants on the spot.
Available Maui Health jobs range from entry-level through director-level leadership and include both clinical and nonclinical roles in accounting, patient access, patient financial services and health information management.
Maui Health was able to make a few offers as a result of the career fair and are in the process of following up with a few other applicants, said Dallarda.
Lanai Community Hospital is also having a career fair from 9 a.m. to 1 p.m. Saturday at Dole Park.
Working with UH-Maui College's nursing program is another way to bring more people on board. Since 2017, Maui Health has hired 110 new nursing graduates from UH-MC.
Current nurses are also offered career growth and training for those who want to expand their skills in specialty areas, such as the intensive care unit, emergency medicine, operating room, oncology and others.
Paid training programs are available for people with little to no experience for entry-level positions, like nurse's aide, transporters and clerks, and also offer tuition reimbursement.
Dallarda said that Maui Health is also updating qualifications for some of the patient financial services positions to help broaden the selection criteria.
"We put a lot of effort into hiring people from Maui, for Maui and we work to teach and train them into new and specialized positions," Horikawa-Barth said. "We understand how special the people of Maui are and in sharing their love and ohana for their patients and co-workers."
For more information about employment opportunities, visit mauihealth.org/careers or call Maui Health Recruiter Shaynna Pasalo at (808) 243-3056.
Article via The Maui News