2015-2016 Guardian Angels
Foundation news
|
Wednesday, March 8, 2017
MMMC Foundation's Guardian Angel program provides patients and their families with a meaningful way to recognize a hospital department or caregiver who made a difference for them during their stay at Maui Memorial Medical Center. Guardian Angels receive a certificate and a custom-crafted lapel pin to wear proudly throughout the hospital. Hearing words of appreciation from a patient or their loved ones means so very much to our staff. It is with these generous gifts that we are able to perform medical miracles everyday.
If someone went above and beyond for you or a family member while here at the hospital, please consider making a Guardian Angel donation in their honor. Your gift will help ensure that we continue to meet the health care needs of our community.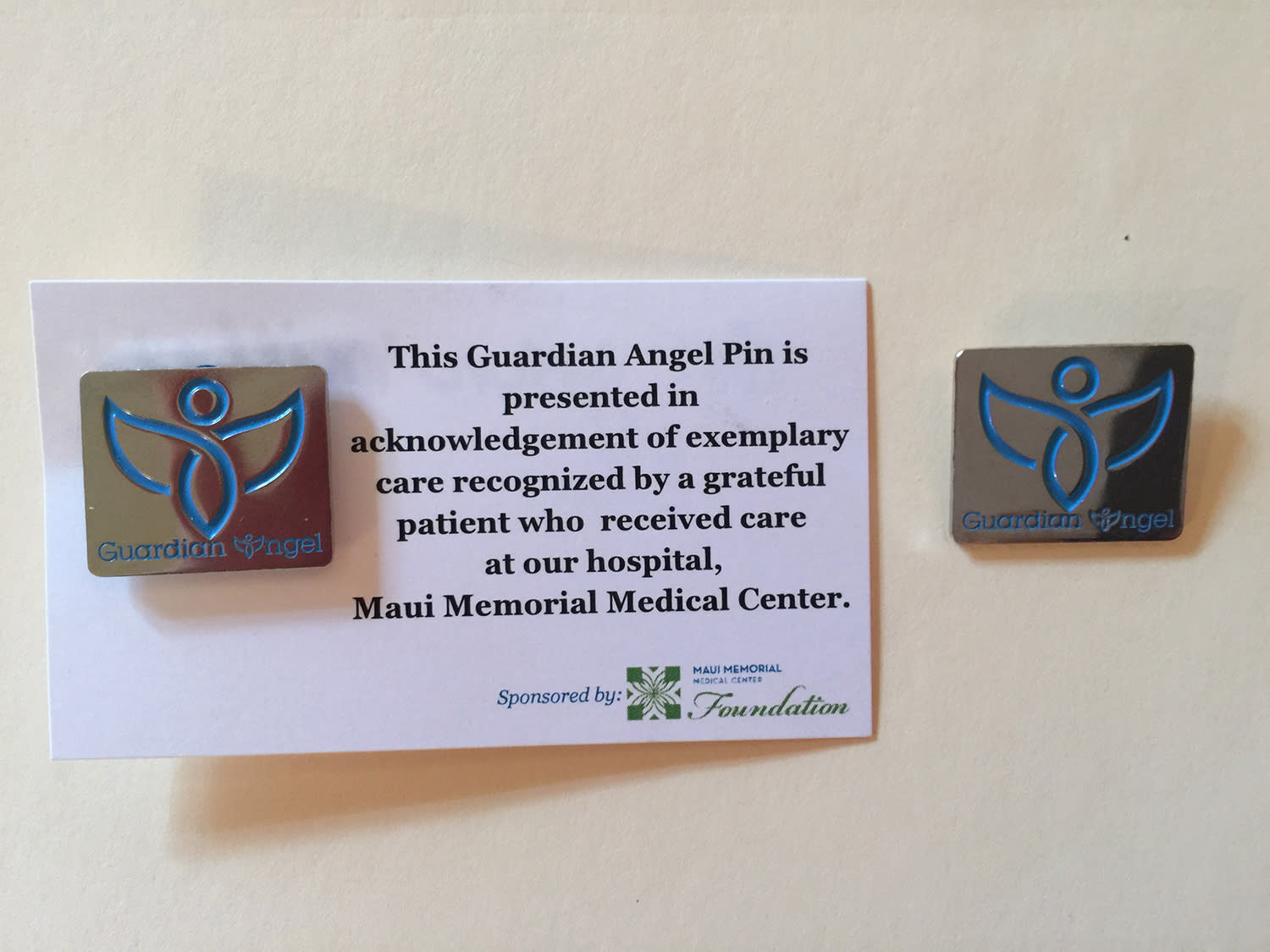 Mahalo to our 2015-2016 Guardian Angels who were recognized by grateful and generous patients.
MMMC Caregivers
Dr. Sheri Armstrong
Evangeline Bagayan
Mary Bulawan
Dr. Terezia Bush
Joan Casio
Rosalinda Cayetano
Dr. Joseph Chambers
Laurie Chock
Val Coloma
Dr. Michael Dang
Eric Derige
Dr. Tracy Dorheim
Terina Espinoza
Robin Ferrier
Jenean Garcia
Dr. Margaret Hall
Julian Hummel-Casserly
Dr. Beth Jarrett
Jan Kaaikala
Katherine Keany
Debbie Kunkle
George Lam, PAC
Barbara Larabee-Duarte
Maribel Labuni
Dr. Colin Lee
Frank Lopez
Dr. Sergio Lugo
Joel Magarin
Rose Marion
Dr. Ronald Martin
Vince Mendez
Dr. John Mills
Ashley Mukaihata
Cecilia Ortiz
Lisa Owan-Somera
Penny Pacubas
Katie Peterson
Tina Polanco
Dr. Kimble Poon
Alice Punzalan
Dr. Thomas Rogers
Cheryl Sato
Dr. Marc Semde
Dr. Sergio Singh
Dr. Randy Stark
Lori Stout-Boone
Dr. Mitchell Tasaki
Corliss Yamada
Vickie Yamaguchi
MMMC Departments:
Cardiology
Emergency Room
Hale East
Hale South
Health Information Management
Intensive Care Unit/Cardiac Care Unit
Imaging
Lanai North
Maui South
Molokai East
Molokai South
Nursing Department
Obstetrics
Oncology
Social Services
Surgical Services

Mahalo to Goodfellow Bros. Inc. for their generous support of the Guardian Angel Program.