Maui Health System Names Inaugural Board of Directors
Hospital news
|
Friday, July 21, 2017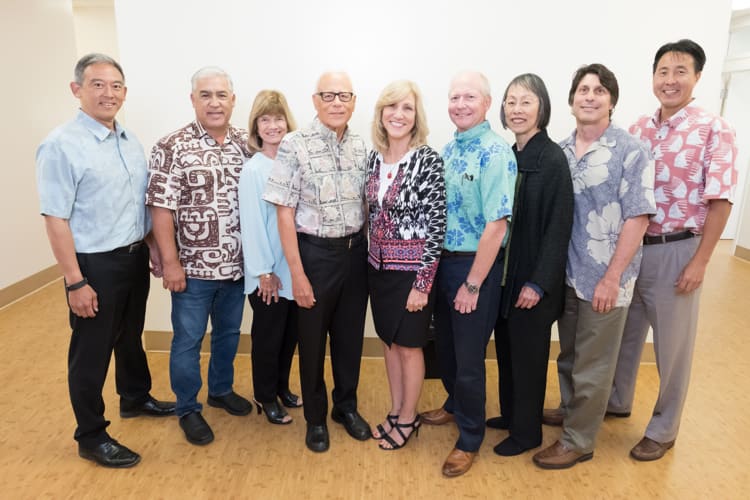 Photo (left to right): John Yamamoto, Anthony Takitani, Mary Hew, Stephen Miller, Mary Ann Barnes, Clay Sutherland, Marilyn Chow, Bryan Smith, Galen Nakamura
WAILUKU, July 12, 2017 — Maui Health System announced the nine directors of its inaugural board. Honoring its mission to provide care for all on Maui and Lanai, the board represents a balance of community members and healthcare leaders and will oversee the quality of patient care, the organization's financial health, and support the organization's mission.
"We are honored to have such a distinguished group of leaders on the Maui Health System Board of Directors," said Ray Hahn, CEO and hospital administrator. "This board is focused on providing the best healthcare for our patients and I look forward to working with them to deliver upon our mission of providing high-quality, affordable care for the communities of Maui and Lanai."
Board Members
Mary Ann Barnes, RN, will serve as the chairperson of the Maui Health System board. She is president of Kaiser Foundation Health Plan and Hospitals in Hawaii – the second-largest health plan in Hawaii – serving more than 251,000 members and employing more than 4,400 staff and clinicians for its 278-bed hospital and 21 clinics.
Galen Nakamura is a senior vice president for Bank of Hawaii and has served in this capacity since returning to his home island of Maui in 2009. He has served on the Maui Regional Health System Board on both the finance and quality committees.
Bryan Smith, MD, is a board certified private practice physician living on Maui. He served as president of the Hawaii Society of Anesthesiology and represented Hawaii as a delegate with the American Society of Anesthesiology. He is a member of the Medical Executive Committee at Maui Memorial Medical Center, assisting with all aspects of hospital governance and strategic planning.
Marilyn Chow, PhD, RN, was born in Hawaii and spent more than 30 years as a leader in health care delivery across a continuum of care settings, professional nursing organizations and academia. Prior to her retirement, she was vice president of National Patient Care Services and Innovation of Kaiser Permanente national headquarters.
R. Clay Sutherland, JD, has called Maui his home for over 50 years. He is a practicing attorney on Maui, focusing on real estate and business matters. He has served on the Maui Regional Health System Board and Corporate Board of Hawaii Health Systems Corporation for the past 10 years.
Mary Hew retired from Kaiser Permanente in 2015 as the senior clinic operations director for Maui and Hawaii and has lived on Maui with her family for over 30 years. She is a field representative for the American Cancer Society's Hawaii Pacific Board of Directors and also serves on the boards of Maui United Way, Hospital Maui and Ka Hale A Ke Ola Homeless Resource Center.
Stephen Miller, MD, has been a surgeon with the Hawaii Permanente Medical Group since 1979 and served as the former Chief of Surgery, holding eyes clinics on Maui every month for seven years. He retired in 2002 to help found eye hospitals around the world and has taught surgery and hospital management in India, Nepal, Tibet, and many other countries.
Anthony Takitani has a long history of service to the island of Maui and has been involved as a volunteer with Maui Memorial Medical Center for 20 years. He served on the Maui Regional Health System Board and is an attorney. He presently serves as president of Maui United Soccer Club and as a director for the Maui Arts and Cultural Center.
John Yamamoto was raised on Maui and currently serves as the vice president and regional counsel for Kaiser Foundation Health Plan and Hospitals in Southern California. He is also responsible for Kaiser Permanente Southern California's Government and Community Relations and Community Benefit functions.
For more information, visit the Maui Health System website at mauihealthsystem.org.