Relay For Life Maui County 2022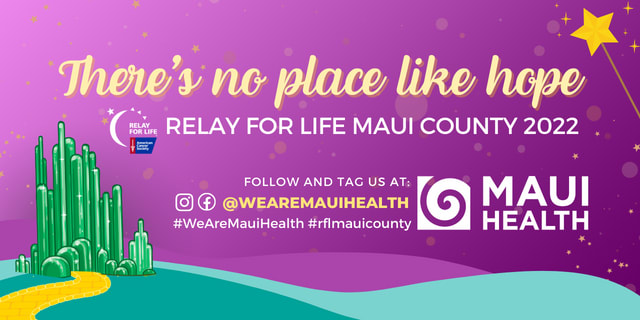 FREE GIFT! Simply text the word "mauihealth" (no space) to 22828.
Follow the instructions in the text to complete the sign up. Once confirmed, you will receive a confirmation via text message. Show your confirmation text to the Maui Health table at the Relay for Life event for a free gift! Offer is while supplies last only.
Maui Health is proud to partner with American Cancer Society in the fight against cancer. Learn more about our commitment to cancer care education and prevention below:
Lanai Mammogram Program
Maui Health offers free monthly mammogram screenings and breast health education for Lanai residents. Each month Maui Health covers travel costs for a group of women from Lanai, including ferry ride to and from Lanai and shuttle transportation from the Lahaina Harbor to Maui Memorial Medical Center and back, plus lunch.
3D Mammograms
Maui Memorial Medical Center's (MMMC) Imaging Department offers state-of-the-art imaging services including 3D Mammograms. Our GE Selenia Dimensions 2D/3D Digital Mammography System offers the newest and most advanced technology and provides low-dose, high-resolution 3D imaging for more detailed and accurate scans. Its flex paddle capability helps improve compression and comfort during mammograms. The system provides some of the highest quality images available across Hawaii. No physician referral is needed to make an appointment for a screening mammogram at MMMC and patients can usually get an appointment within a day or two. MMMC offers complimentary valet parking, a friendly team, and easy access to the Imaging Department through the top entrance near the Emergency Room. For more information or to schedule your 3D mammogram, call 808-243-3012.
Maui Health Foundation
For over 15 years Maui Health Foundation has provided financial assistance covering the cost of mammograms and biopsies to uninsured and underinsured women on Maui. All funds raised through their annual Kokua for a Cause campaign stay on Maui, to benefit the women of Maui and Lana'i with all procedures done at Maui Memorial Medical Center.
About Maui Health
Maui Health is a not-for-profit organization that provides high-quality, patient-centered, affordable care to all residents and visitors on Maui and Lanai. We operate Maui Memorial Medical Center, Maui Memorial Medical Center Outpatient Clinic, Kula Hospital, Kula Clinic and Lanai Community Hospital. These facilities are a vital part of the community and serve all patients, regardless of their health coverage or ability to pay. Learn more about our Journey and commitment to People, Community and Excellence.
---
FREE Photo Keepsake
Post your photo to Instagram or Facebook and tag us at @wearemauihealth with hashtag #rflmauicounty for a free event photo! Or upload your photo to our virtual photobooth at mauihealth.org/photobooth.